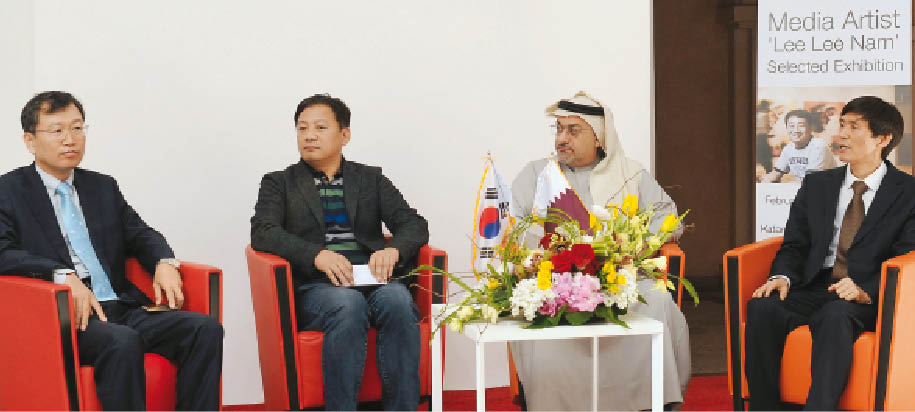 from LEFT: The Ambassador of South Korea Heung-Kyeong Park, Korean artist Lee Lee Nam, Founder of katara Art Center, Tariq Al Jaidah,
and CEO of Asan Gallery, Soo Yeol Kim addressing the media at the katara Art Center in Doha yesterday, Salim Matmkot/The Peninsula
By Raynald C Rivera
&nbsp
Korean artist Lee Nam to showcase selected works
January 29, 2016 - 2:04:26 am
&nbsp
&nbsp
DOHA: Art enthusiasts in Doha are in for a new experience as prominent
South Korean media artist Lee Lee Nam makes his Doha debut with a selection of his works
on display from Monday to February 14 at the Katara Art Centre (KAC).
Using digital technology, Lee breathes new life into art masterpieces from his home country and around the world.
Lee exhibition is brought to Doha through a partnership between Korean based Asan Gallery and KAC
with support from Korean Embassy and Korean Trade-Investment Promotion Agency (KOTRA).
Speaking at a press conference yesterday, Asan Gallery CEO Soo Yeol Kim said an agreement on
exhibition exchange was signed between Asan Gallery and KAC.
November 2015 Asan Gallery hosted an exhibition which introduced famous Qatari artists in Korea.
Through the exhibition many people came to know about Qatari art, praised the artworks
and respect them and even loved them, said Kim.
Bringing Korean artists to Qatar, he said , is part of the 14-year-old gallery strategy to introduce
them to one of the world largest art collecting countries.
One of the main reasons why we decided to host an exhibition in Qatar is because there is not much chances for
Korean artists to exhibit in Qatar even though Qatar is very influential in the world of art globally, he said.
He said Lee is an artist who represents Korea who has created high level of international awareness through
exhibitions in famous art events around the world such as in Venice, Paris and London.
We hope this will be a chance to show Qatar that Korean art is very experimental and conceptual and
many people here will view and remember it, he added.
Thanking Asan Gallery, Katara Art Centre CEO Tariq Al Jaidah, said&nbspI hope this will be a start of a fruitful
collaboration and cooperation. We hope to take more Qatari artists to Korea in the future to further
enhance this relationship and I hope this exhibition will be successful commercially and artistically.
South Korean Ambassador Heung Kyeong Park also attended yesterday&amprsquos press conference, during
which the artist introduced some of his works and his artistic journey from visual to media art.
&nbsp
The Peninsula
&nbsp
&nbsp
&nbsp
&nbsp
&nbsp