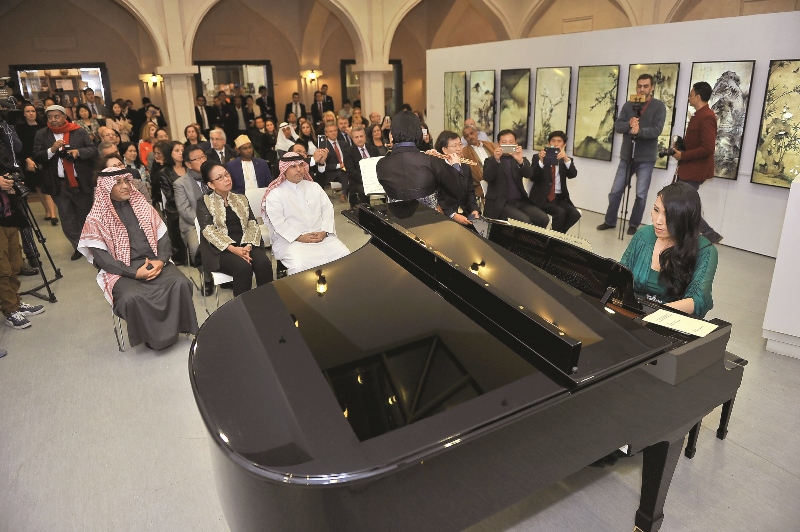 A cultural bridge between Qatar and South Korea
World famous South Korean media artist Lee Nam Lee&amprsquos first ever solo retrospective in Doha
By Raynald C Rivera


Doha: Traditional art meets modern imagery in world famous South Korean media artist
Lee Nam Lee first ever solo retrospective in Doha which features some of his best artworks to date.

Juxtaposing classic art masterpieces and video and digital art, Lee breathes new life into the works
providing them a fresh look that transcends expectations across all types of art connoisseurs.

One of his latest works, on display, a 2016 reinterpretation of a Kawk-Hee masterpiece, integrates space
battle theme. One of his Battle of Civilization series, the work called Star Wars shows spacecraft hovering
above the old nature-themed painting of in a six-minute clip giving it a futuristic effect.

Lee artwork are immersive and creates perplexity as it crosses between reality and fantasy as
he combines various elements in the work.

Traditional Painting-Happiness , a highlight of the exhibition, provides an immersive experience to
the viewer as objects travel across eight-fold screen as if the classic paintings from China, Korea and
Japan are connected by Lee&amprsquos use of imaginary objects which travel through time, place and seasons.

The artworks we brought here to Katara have subjects which are usually based on traditional paintings from Korea,
China and Japan and they are reinterpreted in modern ways. They are actually aesthetic art created using media
which give them vitality and life. These are among Lee Nam Lee&amprsquos&nbsp very special artworks that&amprsquos why we brought
them to Qatar,&amprdquo Asan Gallery CEO Soo Yeol Kim told The Peninsula at the launch event.

Lee&amprsquos exhibition was brought to Doha through a partnership between South Korea-based Asan Gallery and
Katara Art Centre (KAC) with support from Korean embassy and South Korean Trade-Investment Promotion Agency (KOTRA).

This is the first time Asan Gallery has brought a Korean artist to Doha which Kim said has been on the global map
of world largest art markets. For its debut expo in Doha, Asan has chosen Lee Nam being a world famous media artist
and currently a very important artist in Korea.

I want to introduce popular and very important Korean artists to Qatar that why I Chose Lee Nam Lee to feature
in this exhibition,&amprdquo he said.&nbsp Lee breakthroughs in media art has brought him to every city around the world doing
solo and group exhibitions in&nbspart capitals such as Paris, Berlin and New York as well as other countries including
Spain, the UK, Argentina, Russia, and China among others.

Globally prominent Nam June Paik, considered the founder of video art, was born in Korea and another very
important artist the country has ever produced, and Lee is now regarded as the next Nam June Paik.

Lee Nam is called the second Nam June Paik. He is more modernised and does art work with media art which
makes him very special as he is a highly technological post modernism artist, &nbspKim added.

Now that Lee Nam Lee has become very famous, a new breed of artists has emerged in Korea and they try to be like him.

there are lots of media artists in Korea now but Lee Nam is the father of media art and he is an expert in this field, he said.

He shone as the artistic director at the opening ceremony of the Gwangju Universiade Games in Korea last year and
Kim believes that he has a great potential to be an artistic director of World Cup 2022 in Qatar.

Lee Nam has also lots of media artworks on buildings and I know there are many tall buildings in Qatar so my plan is
to present his artworks in buildings in Doha, said Kim as he reveals his plans for the future. Kim said he had always wanted
Asan Gallery to have an exhibition of Korean artists in Qatar and after three years, he was happy to finally stage the expo here,
which he said was a result of the visit of South Korean President Park Geun-hye in Qatar in March last year. Asan Gallery has
already hosted an exhibition featuring a number of prominent Qatari artists in Korea including Ali Hassan, Faraj Daham and
Yousef Ahmad as part of an agreement between Asan and KAC.
These exhibitions serve as a cultural bridge between Korea and Qatar, he said.

Lee Nam Lee exhibition is open until February 14 at Katara Art Centre.
The Peninsula
&nbsp
&nbsp
&nbsp
&nbsp
&nbsp
&nbsp
&nbsp