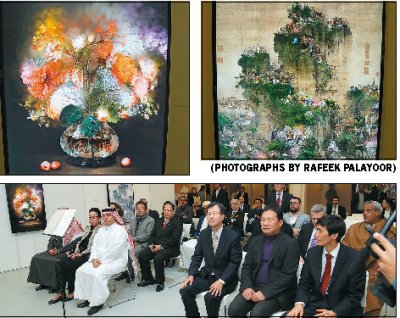 Korean artist's synergy of works
&nbsp
Mona Mashhoor

Doha

Technology and art, which seem to be from two different worlds,&nbsphave been increasingly
interconnected as the two fields merge to create unexpected innovations and&nbsp
push each other's boundaries. Such synergy was displayed at the opening ceremony
held for Korean artist&nbsp Lee Lee Nam's solo exhibition at the Katara Art Centre on Monday.&nbsp
Lee, with a background in sculpture, started making animated media work in 1997
in order to overcome the limit of motionless sculpture.
He stated that media art allowed him to visualise his ideas and imagination better.
During his introduction, some of his previous works were displayed, sharing with
the attendees his artistic journey. His early work, the first&quotlive sculpture&quot was a short
video work, showing how a lump of clay is made into a head sculpture.

He studied media art and animation technology seriously to take his experiment with media art further.
He started making animated paintings and borrowed images from masterpieces and
reinterpreted them to make his art more approachable to the general public.&nbsp
&quotI wanted people to feel interested in my art and stand longer in front of my work,&quot said Lee.

The exhibition saw many supporters from the Korean and Asian community, in addition to
several members of the Korean Embassy, with many of the attendees debating and
admiring Lee's artistic interpretation with great fervour. His digitally transformed masterpieces
have been featured in corporate commercials and stage art. Since his first exhibition in China in 2007,&nbsp
many works following his techniques have been created.
&quotCreativity is random access. I always make materials available around me&nbsp&nbsp so that they can inspire me,&nbsp
and since my debut in China,&nbsp I have strived to constantly create more and challenge myself,&quot said Lee.&nbsp&nbsp&nbsp&nbsp&nbsp&nbsp&nbsp&nbsp&nbsp&nbsp&nbsp&nbsp
&nbsp
&nbsp
&nbsp
&nbsp&nbsp&nbsp&nbsp&nbsp&nbsp&nbsp&nbsp&nbsp&nbsp&nbsp&nbsp&nbsp&nbsp&nbsp&nbsp&nbsp&nbsp&nbsp&nbsp&nbsp&nbsp&nbsp&nbsp&nbsp&nbsp&nbsp&nbsp&nbsp&nbsp&nbsp&nbsp&nbsp&nbsp&nbsp&nbsp&nbsp&nbsp&nbsp&nbsp&nbsp&nbsp&nbsp&nbsp&nbsp&nbsp&nbsp&nbsp&nbsp&nbsp&nbsp&nbsp&nbsp&nbsp&nbsp&nbsp&nbsp&nbsp&nbsp
&nbsp
&nbsp
&nbsp
&nbsp
&nbsp
&nbsp
&nbsp